We typically provide part cargo services within the European Union, with the point of departure or arrival being in Hungary. We do regular break bulk transport. We use both our own and our subcontractors' vehicles to provide the services most suitable to our customers' needs with regard to region, time frames, size and fees.
Freight is delivered either directly or by reloading through our warehouse under tight deadlines and at competitive prices. Due to our transport route, we provide transports between Austria and Germany as well for several of our customers.
Region: European Union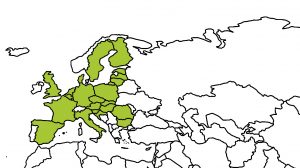 Time frame: The time available for completing the task greatly influences the resources needed for fulfilment. If express delivery is not required, we recommend predictability as a way to reduce fees. Of course, we also accept the shortest deadlines if fulfilment does not violate authority requirements.
Size:The size of the freight can vary between an envelope and an oversized freight. We do not only consider full cargos, but apply many years of expertise to organise part cargo door-to-door transport for minor loads. This is what we consider our main strength, where flexibility and creativity are important assets.
Fees:Fees are of course dependant on requirements and the options of implementation. We try to offer a solution for every job. Our aim is for our customers to experience at all times that they can count on us. We provide a fair, reliable and competitive service, and create our fees accordingly.
Vehicles:Apart from our own vehicles, our options in international transport are greatly enhanced by fleets of a number of inland and international transporters. This makes it possible for us to provide you with any type of vehicle, from the smallest to the largest. We maintain regular and fair contact with our subcontractors, but we also expect an ongoing compliance with the level of service prescribed by us, and we conduct regular inspections in this respect.
Management: Transport tasks are managed with the utmost professional care, always considering your interest in the first place. The service we provide can free you from many burdens that are not usually included in regular freight forwarding services. You can save time and money with us as we free up valuable production time for you, and you may even be able to spare an employee in freight forwarding.
Consulting: We are happy to share our professional expertise with our clients. We apply a freighter's experience when assessing a planned transport (for example: packaging, scheduling, implementation, fees), and provide professional advice to use in your plans or to rationalise your existing processes.
Confidentiality:A lot of information is made accessible in freight forwarding that are very important and confidential to our partners. Such internal information is strictly protected with us. Solid professional reputation is an essential requirement in creating trust, and we strive for long-term business relationships. Our efforts have been rewarded by exclusive contracts of cooperation by several of our partners.